After the last rally at Ken's I had some requests to recount the build story of my '63 conversion. I should start off by saying that I really haven't put a great deal of thought into this thread so it will be a bit "off the cuff". I have more pictures around here somewhere so I can add them along the way. So here goes nuthin-
1994- I was new to BMW airheads though I had wanted one for years and picked up my '77 R100/7. The locals told me I needed to find Chuck Lipps, a local Beemer junkie in Enid, OK. Chuck parted out bikes and back in one of his sheds he had a '67 R50/2 with a questionable motor. Man, I was taken to that beautiful old machine and Chuck said he wanted to build a conversion out of it. A what? He explained it and the seed of an idea was planted.
2001- I picked up a rolling joke of a '63 R60/2: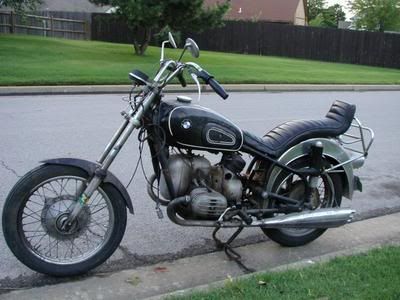 At first I planned to restore it to original and took it all apart. I sent the crank to Ed Korn, who didn't have great news for me. I sat on the idea of where to go with it for a couple years.
2003- I picked up a '59 R50 that was complete but had a broken oil pump shaft. The PO had just fired up the bike, heard loose parts inside the timing cover, and shut it back down. I knew I wouldn't use most of the drivetrain so I took it all apart and it went to eBay heaven.
2003, cont- I bought the remaining Beemer junk from my buddy Chuck (who kept all the parts to build his conversion which is still not finished) and ended up with enough /5 drivetrain stuff to power a bike. At this time I gave up the idea of restoring the '63 and the conversion idea had fully taken root. Unknown to me at purchase time, the '63 came to me with a sidecar ratio final, the sidecar transmission, and the original factory steel sidecar rear wheel. Since none of these parts were to be used on the conversion, they were sold, making the base project free.
I cleaned up all the body parts I planned to use and turned them over to a powder coater in Edmond, Ok who does all of Todd Rasmussens Beemer work. I had every piece of frame, forks, headlight, fenders, etc. done in black powdercoat. I didn't do the gas tank since I had found it already painted and striped in a lucky eBay auction.
2006- I started roughly mocking the bike up. I had the fenders striped by a local striping wizard, actually known as The Wizard. Fortunately I had enough parts to build two /2s and bins of /5 and /6 parts so I could choose exactly what I wanted. I wouldn't recommend building a /2 piece by piece to my worst enemy. The parts would dollar a guy to death.
2008- I got divorced and my world changed underneath my feet. I moved out into a duplex with a 2 car garage. I decided to focus on the bike as a means of therapy. I pretty much secretly worked on the bike in hopes to ride it to the Fall 08 rally at Ken's. I truly burned the midnight oil. I was using a motor made up of the best parts I could find off my shelves, the electrics were a merge of all new /5 wiring but in a /2 headlight bucket. The headlight is a halogen unit from an R65. The old nail ignition switch was scrapped and exchanged with a Rocky Point unit. The swingarm is modified in Germany to accept a post '70 final drive. The front wheel is /2 and the rear is /5 with a 32/10 final. The driveshaft is /5. I added a mechanical 1:2 VDO tach in the spirit of the period accessory tach from the 60s.
I got the bike running but had electrical problems that I neglected to take seriously. On my 150 miles out and back shakedown ride, the electrics fizzled out and I had to get help to get back home. I resolved that and the day before the Fall 08 rally I started having ignition problems. I was not a happy camper but decided to trailer the bike to Ken's where Larry Fixit was determined to sort out the issue. In the process, we shattered a starter casting when the bike wasn't completely in time. No biggie, Ken happened to have a spare on hand (which I still need to send you a replacement, Ken). In the process we determined that the set screw on a Dyna ignition sucks. I would never try to reuse one of those set screws again, unless I wanted my timing to float all over the place. Anyhow, we finally got the bike running decent and I took off down the road and got maybe 500 yards before it started running like @#$% again. I waved the white flag and decided to take the bike home and give myself 2 weeks off from it. I had been working on the bike hours each day for the previous several months. My 2 week break turned into pretty much a year and a half.
2010- enough was enough. This beautiful machine was sitting in my garage and it needed my attention. I replaced the Dyna with good old points. It ran but very poorly. I pulled the airtubes off and noticed that one had a vacuum and the other was kicking air back out through the carb. A quick removal of the valve covers showed the left exhaust locknut had come loose and the valve wasn't opening. 10 minute fix. We set the valves like 4 times at Ken's that fall. Larry and I had resolved the ignition issue without knowing it but I neglected to tighten the rocker lock nut on the last valve check. Live and learn.
Since then, I finally have the /2 I've dreamed about for the last 15 years. I ride it to work quite often and other times it is just plain fun to cruise around town. I still have the original matching engine block so this bike could be restored if desired. But for a /2, this is the way to go!